Bonita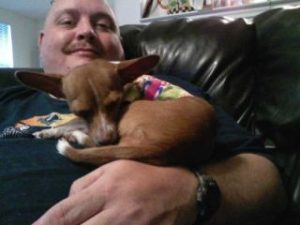 Bonita came to CRT the first week of October 2008. She was frightened and biting. In fact, I was there when we pulled her from the shelter and Cyndi tried to calm her down by giving her tiny bites of string cheese but they had to put on the big gloves to get her into a crate for us. She was taken to the clinic and vetted before I picked her up to foster her.
Bonita 3 Bonita was not man-friendly and was snapping at my son. As I watched her I realized it was fear, what ever happened to her before, had happen because of a man. I had Bonita for a month before I saw how very smart this girl was, I taught her to fetch, come, give and she loved balls and toys that squeaked, plus chew things. We got along fine but as soon as a man was around there was barking and lunging at the man! She was going to be a hard to place girl as most families have a man in it somewhere.
I started taking her to our adoption events at PetSmart and the same problem came up right away, not friendly to men and very snappy with anyone trying to pet her.
Even our volunteers had problems with her but I kept loving her and holding her, rubbing her belly which was one of her favorite things!
She was wonderful with me at home but no one ever got to see "the real Bonita", she had never had a visit by an adopter. Now it has been almost a year and I have turned down sooooo many applications for one reason or another, they just didn't fit and I wasn't going to let her go where she wouldn't be happy! Will she ever find the perfect forever home??? I was starting to have my doubts or was I being to fussy about her placement??
Then I received an application from the King family, I was very happy! She was a stay-at-home wife and mom; they had a yard, dog and 2 teenage girls. I talked to her about Bonita and her husband, who is a police officer for Mesquite, he was willing to work with Bonita. We had our trainer do the home visit so she could evaluate the man of the family and their dog and low and behold, she loved the family and thought it was the perfect place for Bonita.
On October 25, 2009 we wrote a contract and I had the extremely hard job of leaving Bonita who I had loved and cared for a whole year, but because it was such a perfect home with another dog for Bonita to play with, and knowing she would have 4 times the love there and a man who had the knowledge and will to work with Bonita, it became easier! They are a fantastic family and I was so happy for Bonita!!
When I arrived home I sent an email to the family thanking them for the adoption and within an hour and a half I received an email with pictures which I sent to Robin right away! In the subject line I put, " Look at this would ya!!!!!!!!!!!!!!!!!!!!!!!!!!!!! " The pictures were of Bonita on the chest of the MAN!!!
I couldn't believe it!! The tears flowed–Happy Tears!! I thought she would bond but not this fast!!
I was absolutely blessed to find this wonderful family for Bonita and that is what I strive to do for every one of my fosters!!
CRT is an awesome rescue group who not only takes the easy ones, we take the seniors, sick, broken babies and bring them back into a positive life where they will be cherished and loved for the rest of their lives!! We don't stop until we find the perfect home for them. I am proud to be a part of such an Awesome organization!! This is what rescue is all about, making Happy Endings!!
-Foster Mom Bev