Dobby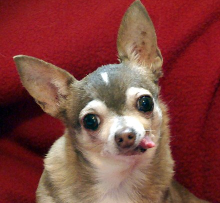 My tongue is adorable. At least that's what everyone tells me when they see me and pet me. But my life didn't start out so good. I was treated horribly by this man when I was younger. One day it got so bad that his neighbors rescued me! Once I was at a clinic, a CRT volunteer in North Texas named Sue spotted me and brought me into the CRT family. They were really worried about me because my leg and jaw were pretty badly messed up from being kicked around. Lois and Emily came into my life and they were my angels. They helped me get all these surgeries for my jaw and leg – I even received a fancy A&M Veterinary Hospital scholarship to cover the cost of my amputation. Recovery was rough and some days they thought I wouldn't make it, but I sure showed them. Because of Lois, Emily, CRT volunteers and CRT best friends, I am literally alive and hopping today. To tell you the truth, most of the time I even forget that I'm a tripod since I like lazing in the sun all day.
Since I'm older and am missing a leg, a lot of people thought I was unadoptable. But in 2010, a young couple in Dallas adopted me. They said that once they watched a video of me hopping around with my tongue hanging out, that they couldn't get me out of their minds and wanted to meet me. It turned out to be a great match because they had another Chihuahua named Kappy who was three pounds, just like me! Kappy was thrilled to find someone who enjoyed barking at the mailman as much as he did.
I still get special dental treatments but for the most part I'm doing just fine. I even got used to living with a man – men used to scare me to death because of my past! Now I demand to sleep in bed next to him every night. Life with my forever family is pretty good, and I love hanging out in my corner of the sofa during movie nights. Now I only get mildly annoyed from the multitude of daily hugs and kisses I receive, although I make it quite clear that there is no such thing as too many pets. The best part is that I still get to see everyone who helped me. A couple of times a year, I have sleepovers with Emily and hang out with my buddy, Bear. And I got to see Lois again at Chiesta in Dallas this year! Honestly, I was kind of a celebrity at Chiesta because everyone remembered me and Lois was telling people about my story. But with a tongue like mine, how can you not treat me like a celebrity?