Marli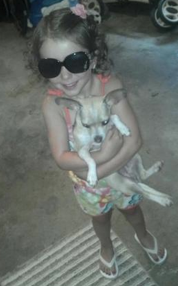 My household consisted of myself, my 3 year old, our cat (who prefers to be outdoors) and our Chihuahua, Cheech. I decided that since the cat spends so much time outside, Cheech needed a friend when I was at work and we were at a place it felt we had room in our family for another little pup. I looked long and hard for the perfect pup and then found Marli.
When we picked up Marli (formerly known as Marni) at the beginning of July, she was so timid and scared to death. She did not like anyone she didn't know. It is believed that she was abused before we received her, and then she was abandoned, hit by a car, shattered her pelvis, put back together all within four months of my receiving her at a year old. After a few days, she got used to me and my daughter and became very attached to us. We soon realized that even though she was terrified of adults and barked at them, even sometimes went after them, she LOVES kids. We have a lot of children that come over to play and Marli instantly warmed up to each and every one of them. She must have previously been exposed to children that were good to her. She also quickly fell in love with my other chi. They've since become best buds and play constantly.
We worked (and are still working) very hard at socializing Marli and her transformation in just 2 short months is amazing. She still sometimes barks at new guests, but only for a second and quickly warms up. Marli has FINALLY realized that she is home. That she won't be going anywhere else. That humans are not out to hurt her, but to love her. She is finally secure. And it shows. I cannot express my gratitude in receiving this playful pup that is such a joy in our lives. My daughter says Marli is her dog, and it couldn't be closer to the truth! They have such a wonderful bond. We really couldn't have found a better dog to fit more perfectly in our lives and I'm so glad Chihuahua Rescue and Transport gave us the opportunity to welcome her into our home.
Erin Baumann