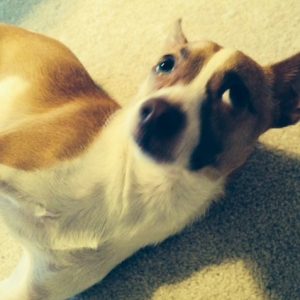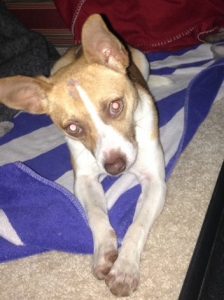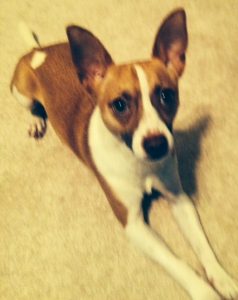 Barclay is thought to be 1-year-old and he weighs 7 lbs.  He was hanging out near some very dangerous highways and rivers for about a month in about a 15 mile radius before he was rescued.  He had no trust in humans so no one could approach him.  After about 17 hours and a medium well prime rib, someone was able to gain his trust and get him into a back yard.  Within a day she was able to pet him and now he has turned into a sweet little guy who is still learning to trust humans but who now loves to play.
It took a while for his finder to be able to pick him up or get a harness on him and since he is still very skittish, he is currently walked with a double leash in a close picketed fenced in back yard.
Barclay wasn't house trained when he arrived but now will go outside and will also diligently use a pee pad inside.  He is crate trained and loves playing in a dog playpen.  He is okay with his foster mom's Schnauzers but can be a little barky and would probably prefer to be with dogs his own size. He enjoys looking out the window and occasionally barks.
He loves people of all ages and has never once been nippy or shown any side that wasn't sweet or pleasant.  He likes children, men and women equally.
He is neutered, UTD on shots and on HW preventative.
To submit an adoption application go here… http://www.chihuahua-rescue.com/adoption-application/
Reference checks and a home visit are required so he can only be adopted in NC/SC, VA.  If you have any questions, please contact carolinascoordinator@chihuahua-rescue.com.
His adoption donation is $200.00.