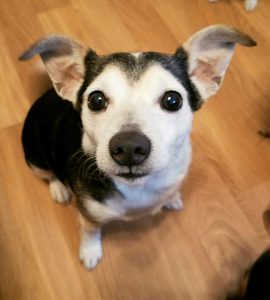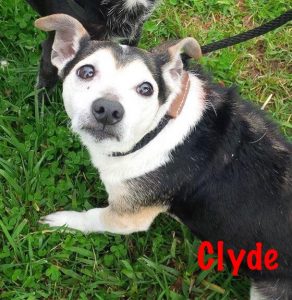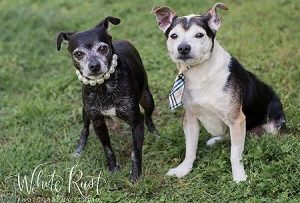 Clyde is estimated to be around 7 years old. He was picked up by Animal Control with another dog who we named Bonnie. The two seemed to be traveling together when they were found. After CRT agreed to pull them, they were delivered to one of CRT's vets and they were fixed, brought UTD on shots and both had much needed dentals.
One of our local volunteers picked them up from the vet and took them home to overnight them until they could meet their new foster home the next day. When she got home from the vet, she let both of them out in her fenced in back yard and after putting Clyde in a very tall round pen in her garage, went back out to get Bonnie. When she returned to the garage, Clyde had scaled the round pen and was running off down the road. Bonnie was delivered to her new foster home the next day and the search for Clyde went on for over a week. He was finally caught and taken to his new foster home but only after and extensive chase around Tanglewood Golf Course and surrounding neighborhoods.
According to his foster Mom, Clyde is a very sweet guy and weights 13 lbs, who loves to go outside and explore and sit in the sun in the big fenced-in back yard. He was never taught home manors so he is currently working on not jumping and on minding his foster Mom. He seems to be house trained as he hasn't had an accident in the house for a while now. He gets along with the other small foster dogs but really doesn't have much to do with them and he doesn't seem to know how to play. Clyde is shy and takes a while to warm up to people. The person that adopts him needs to be a patient person and will take their time with Clyde and not rush him.
To submit an adoption application go here… http://www.chihuahua-rescue.com/adoption-application/. His adoption fee is $200.00
Reference checks and a home visit are required so she can only be adopted in NC/SC, VA and GA. If you have any questions, please contact carolinascoordinator@chihuahua-rescue.com.