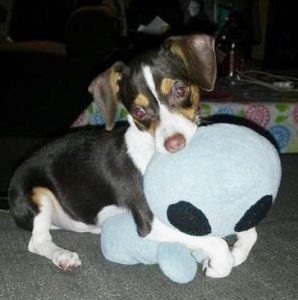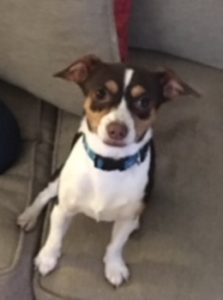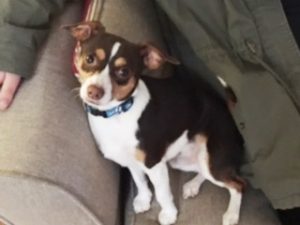 Frankie is an 8 lbs Chihuahua/Rat Terrier who was born on 2/23/16 so that makes him almost 18 months old.
Frankie came into CRT after his owner moved and gave him to a neighbor.  The neighbor wasn't told that Frankie was extremely afraid of boys and men and she had a 15 y.o. son.  Frankie growls, barks and runs away from men.  After she tried everything that she could think of to get Frankie to tolerate her son, she contacted CRT.
Frankie is a wonderful little guy that loves life and is still very puppy like.  He seems to be house trained and will also go on paper.  He gets along with the other dogs at his current foster mom's home and loves attention………but only from women.  He appears to have been mistreated by a man in his short lifetime and now thinks that all men are bad.
He just wants to be with you all the time and will sleep under the covers right up against you at night.  He loves to play fetch with balls and loves stuffed animals.  He is definitely a lap dog.  With a little home training, Frankie will make someone a wonderful companion.
He is UTD on shots, neutered, and on HW preventative.
To submit an adoption application go here… .http://chihuahua-rescue.com/adoption-application/
Reference checks and a home visit are required so he can only be adopted in NC/SC, VA, and GA. If you have any questions, please contact carolinascoordinator@chihuahua-rescue.com.
His adoption donation is $200.00.