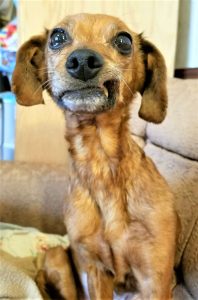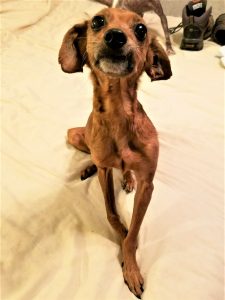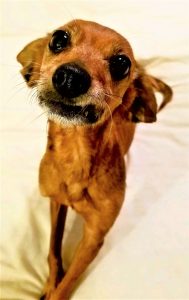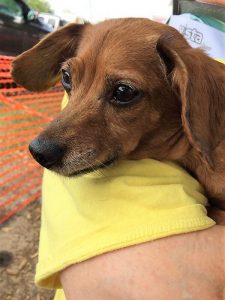 Is recovering after her 2nd knee surgery
Needs a lot of Best Friends!!!
Meet Noreen.  She is a Chiweenie (Chi/Doxie mix).  She was turned into a shelter after being found on the side of the road.  Her finders told the shelter that they thought she had been hit by a car because Noreen could not walk or stand up very well.  The shelter guessed her age to be 14 years but 3 different vets feel like her age is more around 8-10 years.  Noreen is the sweetest dog ever!  She loves everyone and loves to be around people.  She has been to an orthopedic specialist who reports that she needs to have 3 different surgeries.  She has bilateral IV/IV luxating patellaes and her right front should is so damaged that she cannot put any weight on it without wincing in pain.  The specialist recommends removal of this leg due to the amount of damage that is irreparable.
Noreen is house trained and lets her current foster mom know when she has to go out.  He foster mom has to hold her up so that she can poop.  Otherwise, she falls over on her side and gets poop all over her as she tries to get back up.  During the day, if she has to pee, Noreen is able to get from her bed to newspapers that her foster mom puts right next to her bed.  Noreen is currently on pain meds daily.
CRT found a vet down in Wilmington (Dr.  Sam Smith at Paws and Claws Animal Hospital) who was willing to cut us a break in the price of her surgeries and he allows Noreen to board there for free so she could get daily rehabilitation.  Noreen is looking for Best Friends as even if CRT is able to find a vet that is willing to cut us a break, Noreen's medical bills are going to be up there.  Look at that face, CRT couldn't turn her down and now will do everything that they can to make her life better.   If you would like to help, there are many donation options. Just go here … http://chihuahua-rescue.com/how-to-donate/Even small amounts add up and are so appreciated. We sincerely thank you and hope that you will SHARE Noreen's Story
🐾
🐾