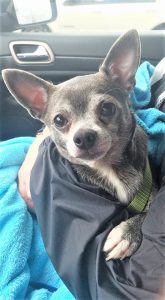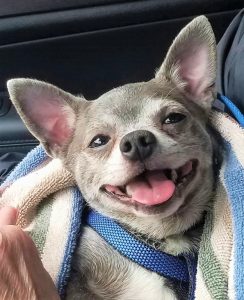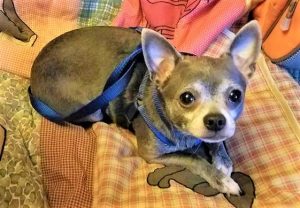 This is Puddin, an approximately 6 y.o., 10 lb Chi.  Puddin and Spike's owner had to go into a nursing home so CRT stepped up to help them out.
Puddin is a little slow to warm up to new people but once he does, he will be your constant shadow.
Puddin is very active and will follow you everywhere because he doesn't want to be left behind. He so wants to be with you that he will forego eating, if you are not in the same room with him and the food.  His foster mom reports that if she will give him a lot of attention right before feeding him that he will eat better.
Puddin is crated when his foster mom leaves the house and he tolerates the crate but barks to get out as soon as she returns.  He definitely wants to be in your lap any time you are sitting and will jealously growl at other dogs that might also try to get in your lap. His foster mom corrects this behavior with a firm "no" and then moves him to a new position so her other dog can also sit in her lap.  His foster mom is currently working on the "sit" command with him.
Puddin knows the word "OUT" and when asked will follow you to the door if he needs to go out.  He doesn't know how to tell you that he has to go out.  He is UTD on shots, on HW preventative and is neutered.
Puddin is the type of dog that would be content to lay in your lap 24-7.
To submit an adoption application go here… http://www.chihuahua-rescue.com/adoption-application/
Reference checks and a home visit are required so he can only be adopted in NC/SC, VA and GA. If you have any questions, please contact carolinascoordinator@chihuahua-rescue.com.
His adoption donation is $200.00.