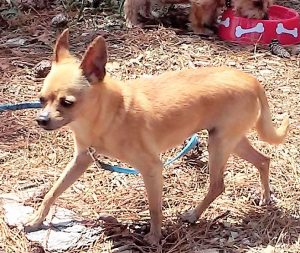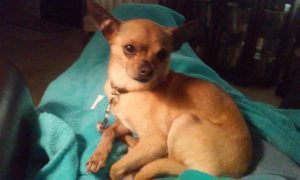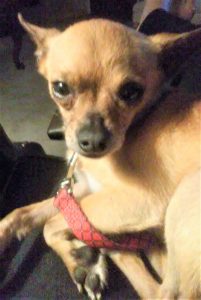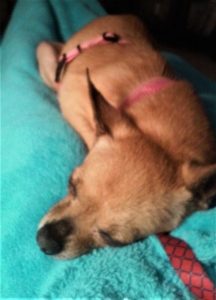 R.C. Murphy came into CRT from a nasty puppy mill down in Hilton Head SC.  He was known as #51 when he arrived at CRT but was soon named Boo, because he was scared to death of everything and everyone.
After no progress was made in regards to his anxiousness, he was sent to our resident dog whisperer, down in north Myrtle Beach where he has made fantastic progress in his scardness of everything.  She renamed him Robo Cop Murphy (R.C.) because upon arrival, he was very stiff anytime you tried to touch him or do anything with him.
Murphy's age is estimated to be around 8 yrs old and he weighs 6 lbs.  He is UTD on shots, on HW preventative, neutered and has had a dental.
In a month's time he has gone from wearing a leash all the time so his foster mom could catch him to sitting now for his foster mom to pick him up.  He now enjoys sitting on the recliner with his foster mom, playing with the other dog in his foster mom's home, going for car rides and he has learned to walk on a leash.  He now doesn't stiffen up when people want to pet him or hold him.  He sleeps in his crate at night and his foster mom says that he is house trained and he will let you know when he has to go outside. He still gets scared when there are loud noises but has learned that his foster mom is his safe place.
Although he is very comfortable in foster care, he would love to have his own forever family. His foster mom says he is very easy to live with and that he is a good boy. His perfect home would be with an older person that has a quiet home (loud noises scare him, but he is ok with storms) who likes to sit in a recliner where he can relax beside them and watch TV.  If you have the patience to gain his trust, he will make you a wonderful companion.
To submit an adoption application go here… . http://chihuahua-rescue.com/adoption-application/
Reference checks and a home visit are required so he can only be adopted in NC/SC, VA, and GA. If you have any questions, please contact carolinascoordinator@chihuahua-rescue.com.
His adoption donation is $200.00.