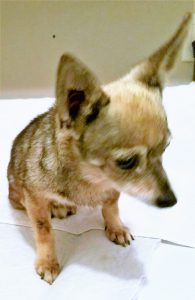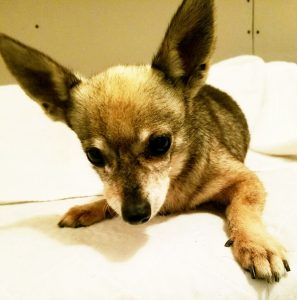 Shep was found on someone's front porch.  Attempts were made to find Shep's owner but to no avail.  His finder could not keep him so they placed him in a box and brought him to CRT.  He was very lethargic and covered in black motor oil, upon arrival to CRT.  We believe that Shep was living outside before being turned in to CRT.
Shep was taken straight to CRT's vet where he was given a bath in Dawn dishwashing soap.  It was determined that Shep only had a few very rotten teeth left in his mouth.  He was neutered and given a dental and he is now feeling much better.  He loves to explore outside in his foster mom's big back yard and he looks forward to getting fed canned food every day, since he lost all of his teeth.  He also loves the attention that he is now getting.
He is UTD on his shots, on HW preventative and neutered.  He weighs 6 lbs and is estimated to be around 10 years old.
To submit an adoption application go here… http://www.chihuahua-rescue.com/adoption-application/
Reference checks and a home visit are required so she can only be adopted in NC/SC, VA and GA. If you have any questions, please contact carolinascoordinator@chihuahua-rescue.com.
His adoption donation is $200.00.